It's the most delicious time of year! While chocolate eggs might be the flavour of the month, the Easter long weekend is also the perfect time to play with some delectable chocolate recipes that will be sure to delight everyone's tastebuds.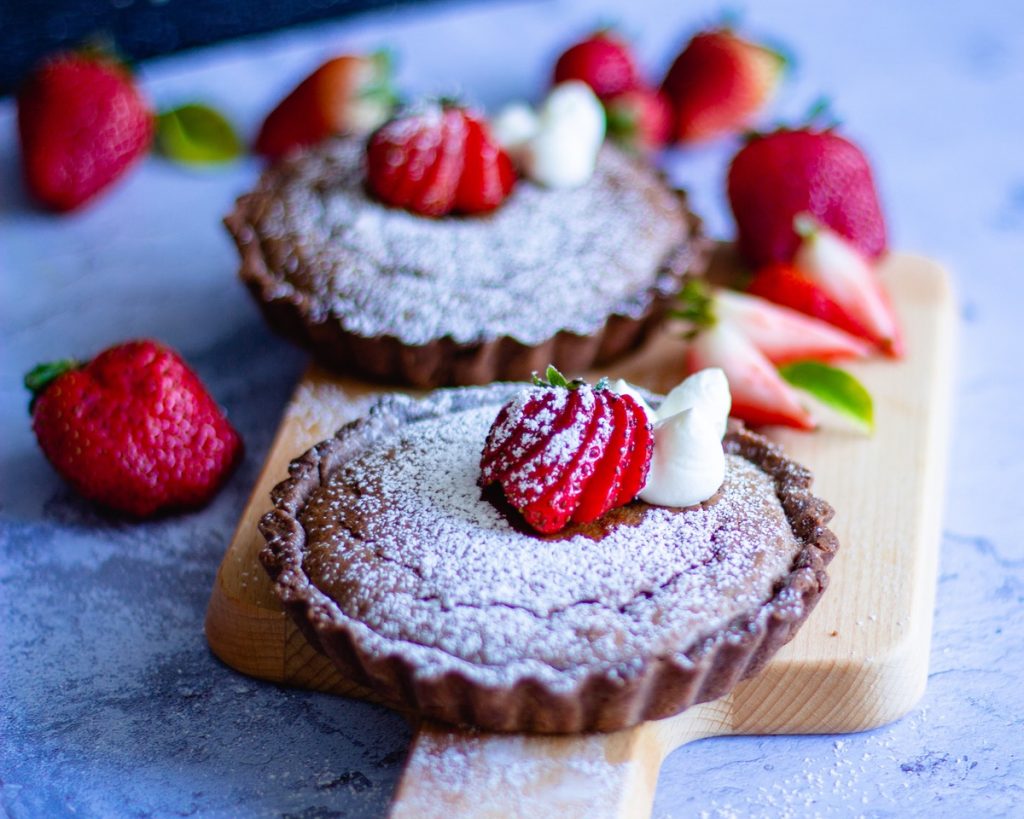 Salted Dark Chocolate Tart
Try a classic with an extra chocolatey twist. Made with a few healthier ingredients, this salted dark chocolate tart adds even more chocolate goodness by adding cocoa to the crust. It's quick and easy while still tasting absolutely delicious – perfect if unexpected guests pop by this weekend.
INGREDIENTS
CRUST INGREDIENTS:
2 cups almond meal
1/4 cup unsweetened cocoa powder
1/4 cup melted coconut oil (or butter)
3 tablespoons maple syrup
1/2 teaspoon fine sea salt
CHOCOLATE FILLING INGREDIENTS:
1 1/2 cups coconut milk
450g dark chocolate, roughly chopped
1 teaspoon vanilla extract
1/4 teaspoon fine sea salt
Topping: flaky sea salt
Method
To make the crust:
Preheat oven to 180°C. Stir together crust ingredients in a bowl until evenly combined.

Press the crust mixture evenly into the bottom of a 9-inch tart pan (or pie dish). Bake for 12 minutes, or until it begins to feel dry and firm. Remove from the oven and transfer to a wire rack to cool.
To make the chocolate filling:
Meanwhile, as the crust is baking, heat the coconut milk on the stovetop or in the microwave until simmering. Place the dark chocolate in a bowl and pour the coconut milk evenly over the top of it. Wait 30 seconds, then slowly stir together until the chocolate is completely melted and smooth. Stir in the vanilla extract and salt until combined.

Pour the chocolate filling into the baked crust and smooth the top with a spoon until it is even. Refrigerate for at least 2 hours, or until firm.

Serve chilled, sprinkled with flaky sea salt.
Chocolate Ricotta Pudding
Nothing says comfort food quite like a chocolate pudding. Perfect for cooler nights, this recipe uses egg whites and ricotta to keep the pudding light, while a rich chocolate sauce brings a dash of indulgence to the dish.
INGREDIENTS
120g firm ricotta
120g dark chocolate (65% cocoa), melted, plus extra, grated, to serve
50ml pouring cream
3 eggs, separated, plus 1 extra egg white
40g caster sugar
20g butter, coarsely chopped
To serve: vanilla ice-cream
Chocolate sauce:
180ml pouring cream
100g dark chocolate (65% cocoa solids), finely chopped
METHOD
Preheat oven to 180°C. Combine ricotta, chocolate, cream and yolks in a bowl. Whisk egg white and a pinch of salt in a separate bowl to soft peaks (1-2 minutes), gradually add sugar and whisk until glossy (1-2 minutes), then fold into chocolate mixture.


Heat butter in a 22cm-diameter frying pan over low-medium heat, add chocolate mixture and cook until just set around the edges (2-3 minutes). Transfer to oven and bake until centre is just firm to touch (3-4 minutes).

Meanwhile, for chocolate sauce, bring cream to the boil, remove from heat, add chocolate and whisk until smooth and combined. Drizzle onto pudding and serve hot topped with ice-cream dusted with finely grated chocolate.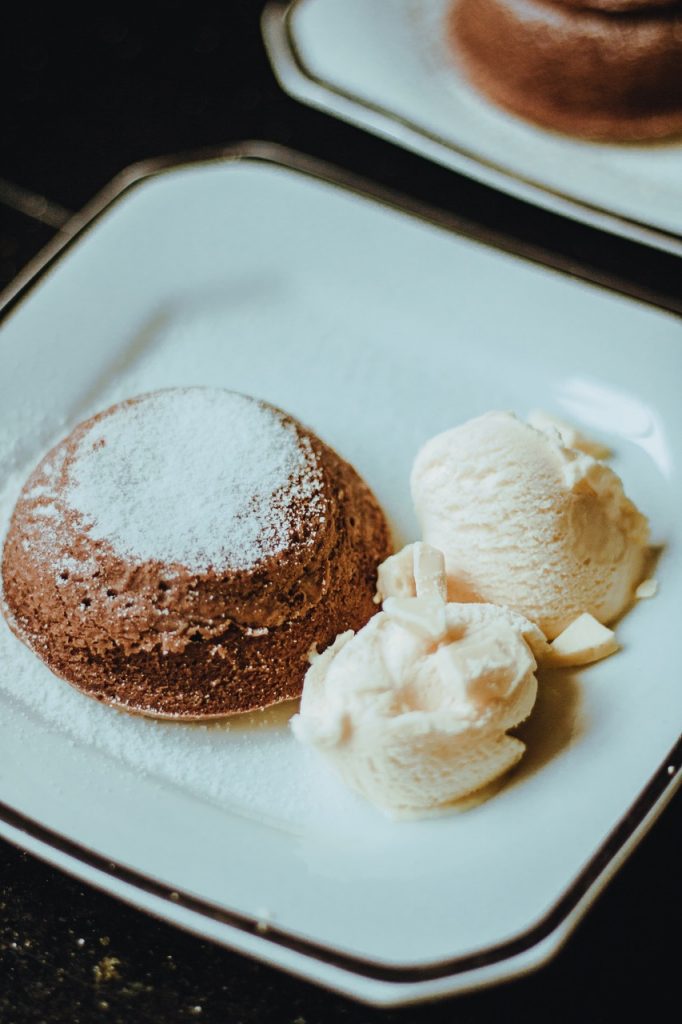 Chocolate cannoli
For the perfect delectable dessert, it's hard to go past cannoli. Requiring a little more effort, this recipe is well worth it, providing the perfect combination of chocolate, pastry and a tasty filling. Just what your tastebuds ordered.
INGREDIENTS
2 large free-range eggs
60ml sweet wine, Marsala
3 tablespoons olive oil
250g plain flour, plus extra for dusting
1 litre sunflower oil, for frying
200g quality dark chocolate, (70%)
100g toasted hazelnuts
600g quality ricotta cheese
1 teaspoon vanilla bean paste
2 tablespoons runny honey
2 heaped teaspoons quality cocoa powder
1 tablespoon grappa (or substitute for apple juice)
METHOD
In a large bowl, whip 1 egg with the sweet wine and 3 tablespoons of oil. Gradually add the flour (you may not need it all) until it comes together into a ball of dough. Knead for a few minutes, or until smooth and silky. Wrap in clingfilm and leave to rest for 1 hour.
Pour the sunflower oil into a large, sturdy pan on a medium-high heat, and leave it to get to 180ºC on a thermometer. Meanwhile, roll the dough into a large sausage about 4cm in diameter. Keeping the rest of the dough covered with a clean damp tea towel, slice off a ½cm-thick disc and roll into a ball, then flatten out on a flour-dusted surface to 2mm thick.
Lightly dust your metal cannoli tubes with flour (or use lightly oiled dried cannelloni tubes), then wrap a circle of dough around each, sealing the edges with beaten egg. Working in batches, carefully lower into the hot oil for just 1 minute, to get lightly golden. Remove to a plate lined with baking paper to drain for 3 minutes, then squeeze the moulds and gently slide off the cannoli. Repeat until you've used up all the dough.
Melt the chocolate. Pound the hazelnuts in a pestle and mortar until fine. Drain the ricotta, then blitz in a food processor with the vanilla paste, honey, cocoa and grappa until just smooth. Spoon into a piping bag with a star nozzle, and twist the bag to give tension, then pipe the filling into the cannoli. Drizzle with chocolate, sprinkle with nuts, and serve.